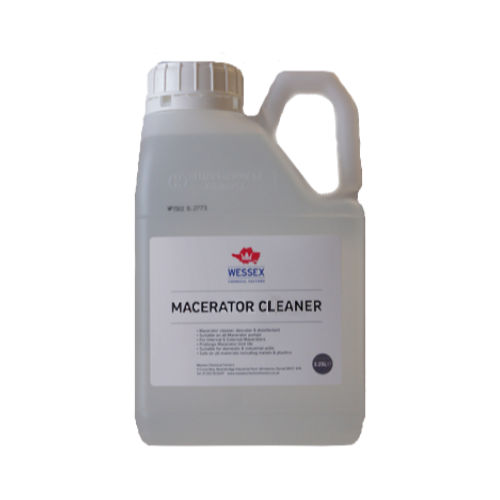 Macerator Cleaner
Macerator Cleaner is designed for the regular cleaning, maintenance and protection of macerator units. It is suitable for all types of macerator pump and will help prolong the macerator unit's life.
Suitable for all macerator pumps
Prolongs the units life
Safe for use with septic tanks
For domestic and industrial use
This product is now regulated under the Poisons Act 1972, The control of Poisons and Explosive Precursors Regulations 2023.
It can only be purchased by professional users or individuals with a valid EPP licence.
Please contact us if you fall under either of these categories and are able to provide us with the following information.
Full name and address of business / licence holder
Valid photo ID of the person responsible for purchasing
VAT Number (if applicable)
Statement of intended use for the product
Further information, including the form can be found here EPP Regulations 2023
£8.99
Buy it now
Macerator Cleaner has been designed for the regular cleaning, maintenance and protection of macerator units.
Scale buildup can case blockages and breakdowns of macerators and is a particular problem in hard water areas. Once blockages start to form, they can be difficult to get rid of so regular use of Macerator Cleaner is important as it will breakdown any scale which is building up in the system, keeping the water flowing and your equipment working more effectively.
Using Macerator Cleaner will also help to prolong the life of your equipment, saving you money in the long-term.
This cleaner is so safe to use that it can even be used in areas where the waste ends up in a septic tank without causing damage to the tank.
Top Tip
If your equipment is already badly scaled up, you want to use Proflush first to remove the buildup. It is still safe to use with macerators but is more aggressive and more expensive.
INSTRUCTIONS
Before and cleaning or maintenance, make sure you disconnect the macerator unit from the electricity supply.
Pour approximately 1 litre into the toilet bowl, flush and leave to work for 2 hours.
Reconnect the unit to the electricity supply and then flush the unit twice.
RECOMMENDED MAINTENANCE SCHEDULE
Very hard water – Once a month
Hard water – Every 3 months
Soft water – Every 6 months
Technical Data
Safety Data