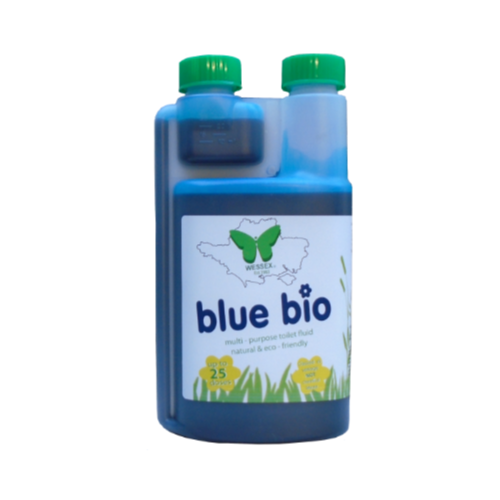 Blue Bio Toilet Fluid
Our popular Blue Bio fluid is a truly green portable toilet fluid that outperforms harsh chemicals but has a blue colour that hides waste well. Blue Bio is suitable for caravans, motorhomes, boats and all other portable toilets.
£8.99
Buy it now
Blue Bio toilet fluid is a new generation, multi-purpose, blue toilet fluid primarily for cassette/waste tanks and flush tanks in caravans, motorhomes, boats and portable camping toilets. It is also suitable for use in septic tanks, boat holding tanks and grey water tanks (where the blue dye isn't an issue).
We have made it multi-purpose so you can use it in the waste and flush tank, holding tank, the grey water tank and septic tank avoiding the need to buy multiple, separate products and saving both money and valuable storage space. Blue Bio toilet fluid is effective at cleaning the flush tank, keeping it mould and limescale free. It's been made with a blue food-grade dye because it hides waste better than green or purple (plus we think it looks nicer) and it's washable so it doesn't stain clothing and carpets permanently. Oh, and it smells nice too. We've put Blue Bio toilet fluid into a handy dosing bottle, so you can dose your tanks accurately, with less fuss and mess and you will get loads of doses out of just one bottle.
Blue Bio toilet fluid works with mother nature to breakdown waste whether it's in your caravan, motorhome, boat or in the sewage plant. It is formaldehyde, glutaraldehyde and biocide-free (harmful substances contained in many toilet fluids) and works with natural bacteria to breakdown sewage. This greatly reduces its impact on the environment and brings disposal costs down (associated with chemical disposal). It's non-hazardous and 100% biodegradable, making it the friendly chemical toilet fluid that works!
Because this is a natural product it cannot come into contact with bleach or alkali cleaners, our Bathroom Cleaner is the perfect companion for keeping the toilet and bathroom fresh and clean without harming Blue Bio.
Technical Data
Safety Data