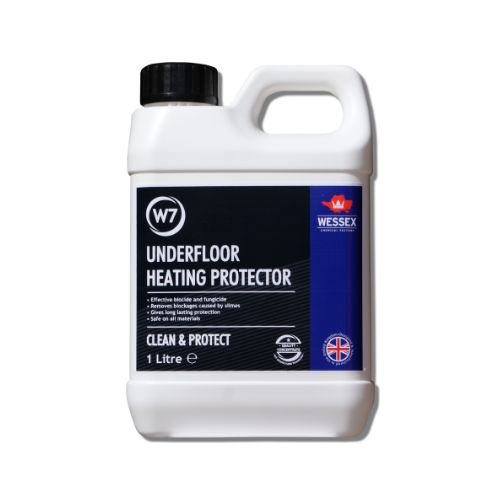 Underfloor Heating Protector
Underfloor Heating Protector prevents the growth of bacteria and growths within underfloor heating systems which can cause blockages and impact the efficiency of the system.
Non-toxic
non-harmful
Safe to use
Safe on system materials
£8.99
Buy it now
Underfloor Heating Protector is a biocide and fungicide which removes and prevents blockages within underfloor heating systems. Underfloor heating systems often run at low temperatures and this can provide an ideal breeding ground for bacteria which will grow and cause blockages within the pipework, heat exchangers and more. They can also cause unpleasant odours and corrosion which can cause long term damage to the system.
Replacing blocked pipework in these systems can be disruptive and costly, by protecting the system at the point of installation you can stop the bacteria in it's tracks.
This product is non-toxic, non- corrosive and safe on all materials found in underfloor heating systems.
Too keep the entire system free from blockages and running efficiently, use our Underfloor Heating Protector to stop bacterial growth and clear out any growths already present.
Instructions for use
1 litre will be sufficient for most average systems, larger systems should be dosed at 1 litre per 300 litres of system volume.
Circulate through the system for 4 hours at an ambient temperature.
Flush the system through and refill, adding 1 litre of Underfloor Heating Protector for every 300 litres of system volume.
Also add 1 litre of Corrosion Inhibitor to prevent blockages caused by rust and corrosion deposits.
Technical Data
Safety Data