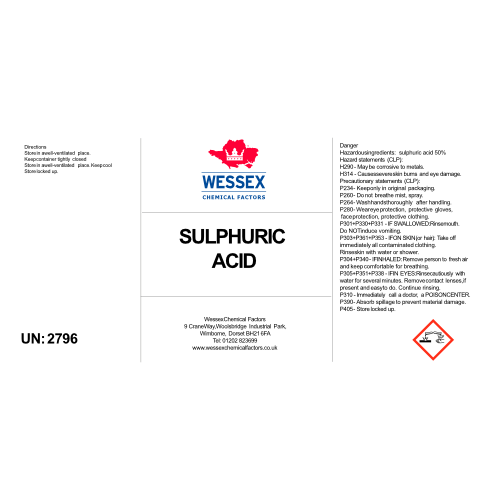 Sulphuric Acid
Sulphuric acid is often used as battery acid, drain unblocker and a metal treatment on certain alloys.
Sulphuric acid is available in various Specific Gravities (SG) to suit different applications.
This product is now regulated under the Poisons Act 1972, The control of Poisons and Explosive Precursors Regulations 2023.
It can only be purchased by professional users or individuals with a valid EPP licence.
Please contact us if you fall under either of these categories and are able to provide us with the following information.
Full name and address of business / licence holder
Valid photo ID of the person responsible for purchasing
VAT Number (if applicable)
Statement of intended use for the product
Further information, including the form can be found here EPP Regulations 2023
If you wish to purchase this product, please contact us.
The safety data sheet is available below.