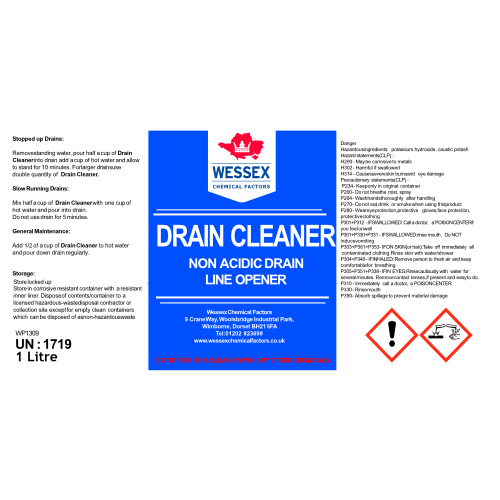 Drain Cleaner
Our Drain Cleaner is non-acidic and dissolves fats and grease which clog up drains, keeping your pipework running free.
Drain Cleaner is a non-acidic, strong alkali fluid which breaks down grease and fats which clog up drains, opening up the waterway and allowing other matter which may be clogging the pipe to flow freely through.
Also suitable for shallow traps found in baths and showers, Non-acidic Drain Opener is safe to use on chrome and stainless steel fittings.
Can be used as an unblocker and also as a regular maintenance product to prevent blockages.
DO NOT MIX WITH ANY OTHER CHEMICALS, KEEP AWAY FROM STRONG ACIDS, KEEP OUT OF THE REACH OF CHILDREN.
Technical Data
Safety Data