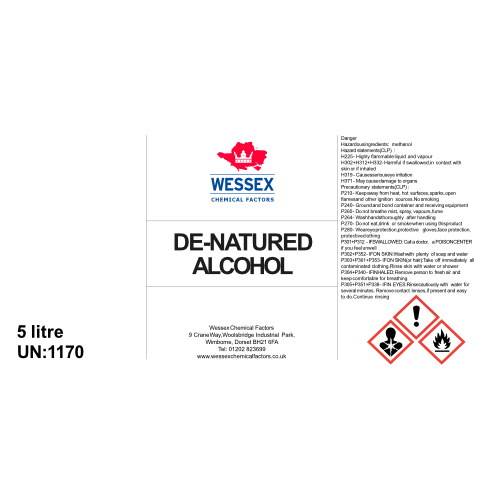 De-natured Alcohol
Denatured alcohol is ethanol with additives to make it unfit for human consumption. Often used in the sign-making trade and also as a general cleaner.
Only available for purchase by users holding a valid licence to receive denatured alcohol.
Denatured alcohol, also known as IMS 99, IDA and Methylated Spirits is often used as a cleaning solvent and also as a fuel for gas burners and camping stoves.
Made from Ethanol, it has another chemical added to it to discourage consumption but doesn't alter the chemical make-up of the material meaning it will still perform as well as pure ethanol but cannot be consumed.
You are required by law to be in possession of a licence to receive denatured alcohol and we cannot supply to anyone without a copy of their licence, this rule applies to individuals and business' alike. Click on the link for further information and feel free to contact us if you'd like any further assistance.
If you already have a licence then please get in touch with us to place an order and send a copy of your licence.
This product is more than 90% pure and is never made from recycled product, also available with anti-static.
Safety Data