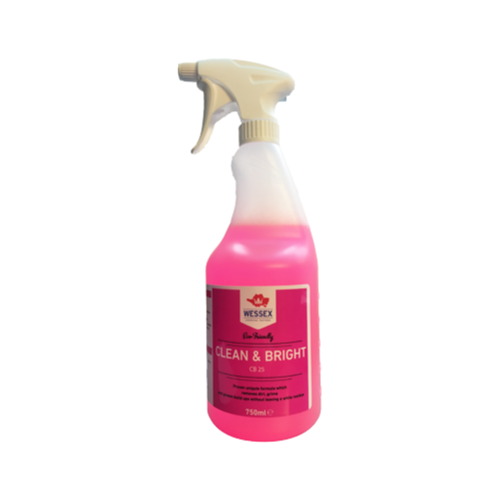 Clean & Bright
Our Clean & Bright spray effectively removes dirt, grime and grease without leaving a white residue.
Great for cleaning bicycles, motorbikes and many painted surfaces.
£6.99
Buy it now
Our super Clean & Bright cleans grime and dirt from a multitude of surfaces including paint, stone and aluminium alloys. Its effective formula is solvent-free and will not harm any surface that is unaffected by water. This useful spray will even remove black marks from paint and stone without dulling the surfaces and can be used in conjunction with pressure washing and scrubbing equipment. It was developed to remove grime and dirt from the aluminium alloys commonly found on modern motorbikes without damage to paintwork or white marking of expensive alloy finishes.
Originally developed as a bicycle cleaner, Clean & Bright is also an excellent cleaner for motorbike and alloy wheels on all vehicles. It cuts through brake dust and road grime leaving the paintwork clean and shiny.
Clean and bright cleans other painted surfaces too such as walls and flooring as long as the surface is not normally affected by water.
Technical Data
Safety Data