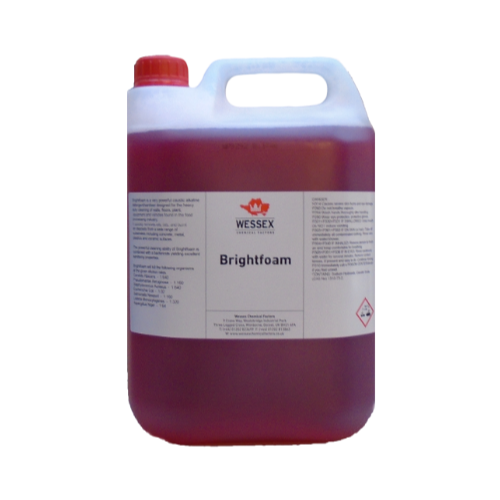 Brightfoam – 5 Litre
Brightfoam is a powerful, caustic alkaline cleaner, degreaser and sanitiser for use on ovens and various catering equipment. Excellent at removing burnt-on carbon deposits and residues from a variety of materials and leaving a sparkling, grease-free surface.
£25.99
Buy it now
Brightfoam is a very powerful oven cleaner which uses a powerful bactericide to kill germs whilst removing burnt on carbon, fat and grease deposits from a variety of surfaces. Used extensively in the catering industry it's excellent for cleaning and degreasing many surfaces, here are just some of it's primary uses;
Ovens  – commercial and domestic
BBQ's, rotisserie stands & hog roasters
Food production areas including abbatoirs and dairy
Fast food kitchens
Food manufacturing plant and machinery
Food delivery vehicles
Mobile catering vans
Best used on a warm oven / surface, the caustic detergent will immediately begin to breakdown carbon deposits, fat and grease allowing it to be wiped or rinsed off.
Brightfoam can also be used on walls, floors, plant equipment and machinery, it's safe to use on concrete, metals, plastics and ceramic surfaces. Not only that but it can also be put through a pressure washer for full washdowns.
For full usage instructions, health and safety and a list of the key organisms which brighfoam will kill, please see the technical data sheet below.
Technical Data
Safety Data