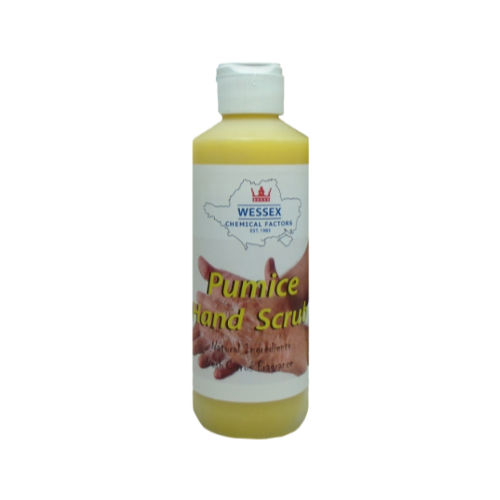 Pumice Hand Scrub
Our Pumice Hand Scrub is environmentally friendly, effective and it can be used with or without water.
With a pleasant fragrance and natural pumice to scrub away ingrained dirt and dead skin, it will leave your hands clean, soft and refreshed!
£5.99
Buy it now
Pumice Hand Scrub is 100% microbead free and contains natural pumice which is effective at thoroughly cleaning hands. It has a fresh citrus fragrance and works well at removing ingrained dirt, dead skin, tar, bitumen, resin, inks, grease, oils and heavy industrial grime.
Our environmentally friendly Pumice Hand Scrub is great for use at home, in engineering workshops, garages, food processing plants, oil industries, shipping, catering, laundries, refuge and sewage plants.
Simply apply a small amount to your hands, work in well until ingrained dirt has been removed then rinse with water or wipe clean. Our clever formula means this hand scrub can be used on wet or dry hands!
Technical Data
Safety Data
Clare Gardner – Pumice Hand Scrub
As a jeweller i was looking for an ethical heavy-duty hand cleaner that would remove the stubborn polishing compound from my hands, but didn't contain polybeads. This pumice scrub is a brilliant product that works effectively, has a pleasant fragrance and does not irritate my sensitive skin. It is kind to the enviroment too, so no more guilt about washing chemicals and plastic beads down the sink! I have found it great for other applications too, such as washing off paint or anything greasy. I will be buying more! Clare Gardner - Lovesong Jewellery
http://www.lovesongjewellery.com
Available to buy here
2019-09-17T11:45:36+01:00
Pumice Hand Scrub works effectively, has a pleasant fragrance and does not irritate my sensitive skin.
https://www.wessexchemicalfactors.co.uk/testimonials/clare-gardner-pumice-hand-scrub/